Automobile On-board Computer A203 Car Digital OBD Computer Display Speedometer Fuel Consumption meter Temperature Gauge ODB2
Warm Tips:
Due to some buyers didn't check our description , and their old cars don't suitable this device. then leave one star feedback. please read our descriptions before place order , or you can ask us before place order , thanks!
This device based on OBD2 protocols , but it can not support J1850(J1850 PWM, J1850 VPM), I suggest you ask us before you make order , espacially your car is Ford , Renault , Ssangyong, LADA, Chevrolet .
OBD2 devices are not compatible with follow vehicles:
Europe Cars : MaOBD2 devices are not compatible with follow vehicles:nufacture before 2004 not support
American Cars: Manufacturer Dodge, JEEP, Ford GM,Chrysler and all cars before 2004 not support.
France Cars: Manufacture DS,Peugeot,Citroen, Renault and so on not support.
Japanese Cars: Manufacture Suzuki, Mazda,Toyota, Honda and all cars before 2008 not support.
Korean Cars: Manufacture KIA, Hyundai, some models before 2007 can not support.
Chinese Cars: manufacture before 2008 can not support.
Renault / Chevrolet,Ssangyong can not support .
Hybrid car , electric car ,diesel powered car , Pick up ,SUV, ORV not support.
Skoda Fabia can not support
Below special Cars not support:
Nissan Rouge 2014 BMW X5 Diesel 2013 Ford Mustang 2004
Nissan Frontier 2012 Chrysler Town and County 2007 Toyota Prius 2012
Nissan sunny n17 model 2012 Lincoln Towncar 2003 Rainier 2005
Nissan note 2006 Renault Clio 2 Phase Jaguar XF2011 etc
Nissan murano 2007 Volve XC60 2005 Toyota Altis 2016
Nissan Livina 2008 Perodua viva Toyota Fortuner 2014
Nissan G11 2009 Perodua alaz Ford Galaxy 2005
Honda HRV 2016 Perodua myvi lagibest 2012 Ford Taurus 2003
Honda CRV 2016 Chevrolet silverado 2004 Nissan Altima 2005
Honda jazz 2010 Chevrolet Vivant model 2007 Mitsubishi outlander2016
Honda jazz 2014 Kia morning 2008 Hyundai Sonata 2013
Honda CRV 2008 SRT-4 Dodge Neon 2004 Hyundai i20 2012
Honda v6 2010 Dodge Durango 2004 Hyundai santa fe 2013
Honda element 2010 Pontiac Bonneville 2005 Chevrolet Trailblazer 2006
Toyota Hilux Vigo 2015 Grand Marquis 2004 Chevrolet silverado 2005
Toyota Porte 2009 Hybrid Camry XLE2016 GrandPrix 2006
A203 Introduction
A203 OBD mini car trip computer is a small car instrument with powerful functions, which is especially suitable for vehicles without a tachometer, an engine temperature gauge and fuel consumption display functions.
A203 can also display and monitor vehicle battery voltage, generator charging voltage, offering vehicle over speed alarm, high engine temperature alarm and monitoring and other functions. It even can read vehicle data streams, scan engine fault codes and offer fault code clearing functions.
Suitable for models :
standard OBD-II protocol compliant petrol and diesel vehicles, especially for vehicles without a temperature gauge, tachometer and fuel consumption meter.
Function:
Speed, water temperature, instantaneous fuel consumption, hour fuel consumption, brake performance testing, vehicle acceleration test, data flow function display, display color configuration, fault code scanning, fault code clearance and other functions
Early warning function:
Water temperature warning, over speed warning, shift warning.
2. Digital speed
3. Engine speed
4. Fuel consumption
5. Battery voltage
6 . Failure diagnosis
7. Brakes test
Operating voltage: 9-18V DC
Operating current: <80mA
Sleep current: <10mA
Operating temperature: -20~85 C
Product volume: 75mm*55mm*20mm
1. Plug and play
2.Highlight LCD display
3.Automatic brightness
4.OBD destructive installation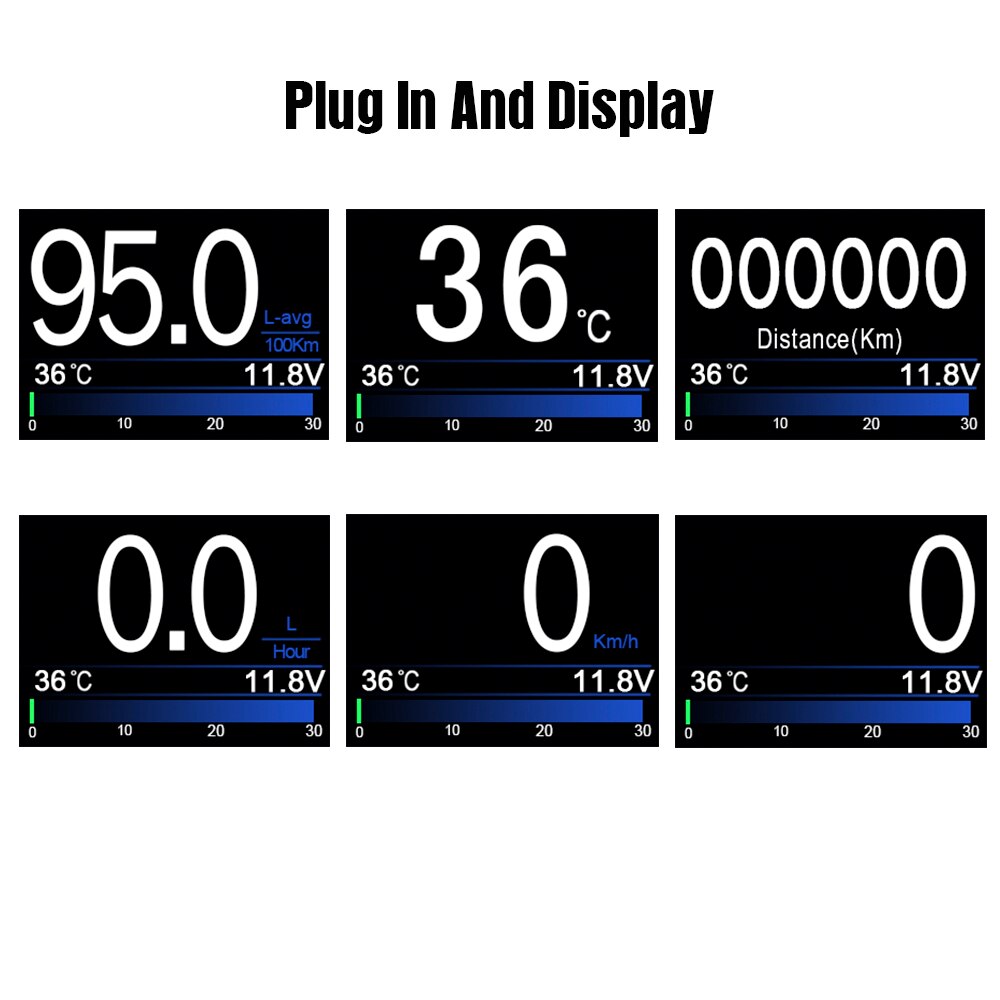 How to Install the A203 Car Computer
Insert the product into the check port on the vehicle OBD computer;
insert the other end of the product into the data interface of the host.
After the product is inserted into the host and the car is started, wait for the communication linkage between A202 and the car.
After the linkage is successfully established, the host will send a "drop" sound, at the same the display screen displays vehicle protocols and then indicates that it is the first time the product is used to set up parameters. (International universal OBD plug protocol definitions stipulated by SAE)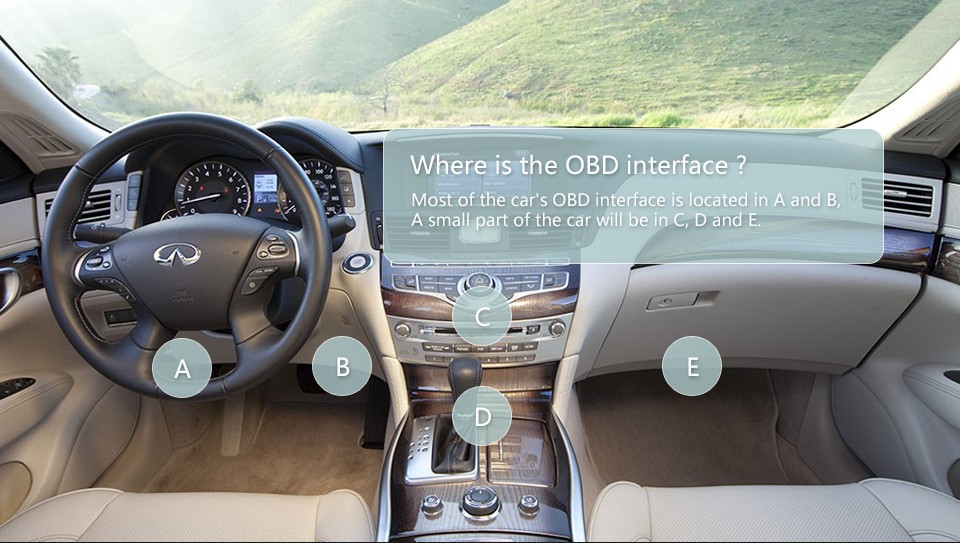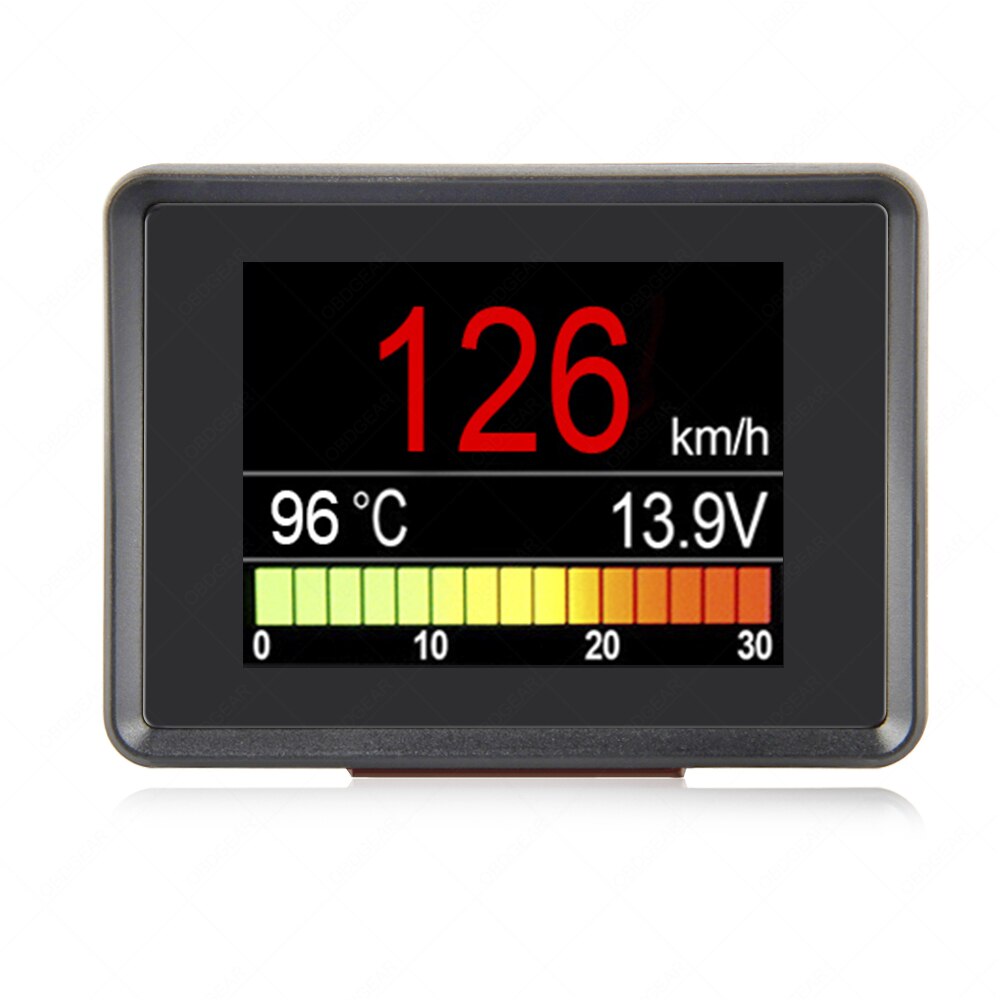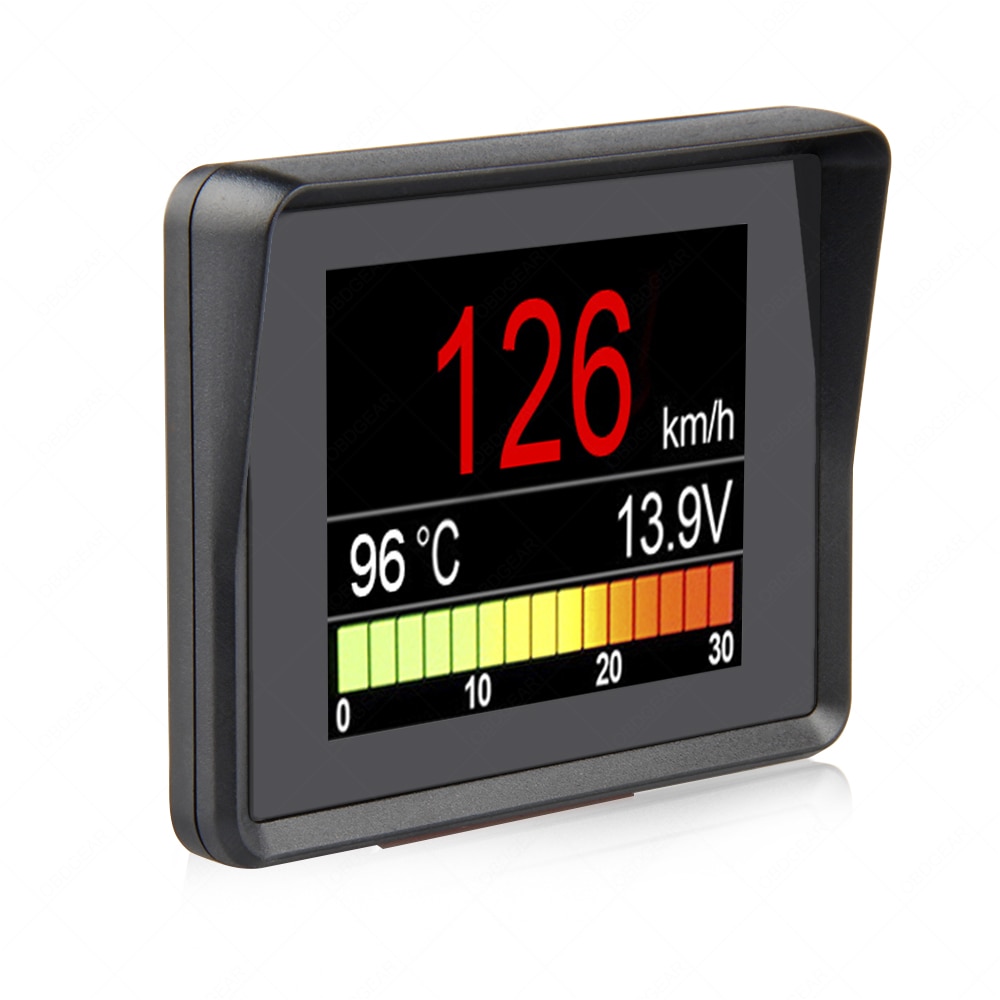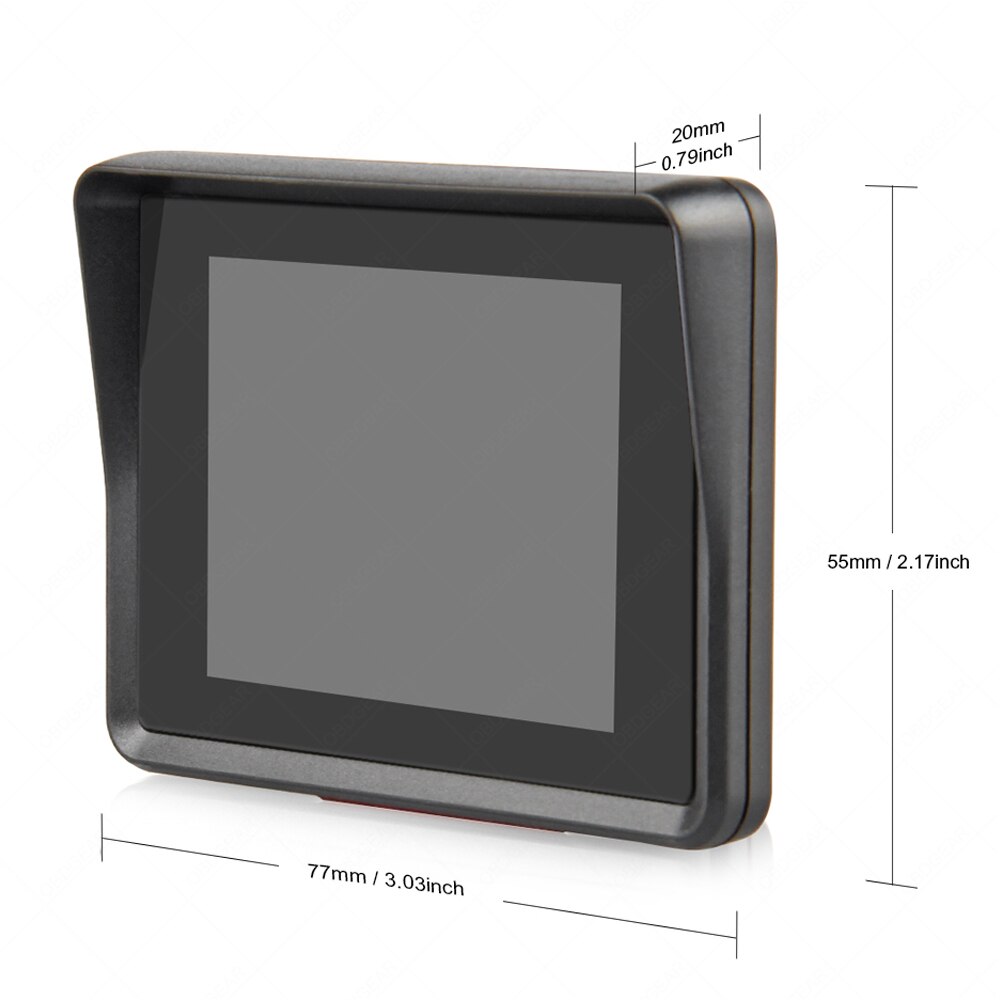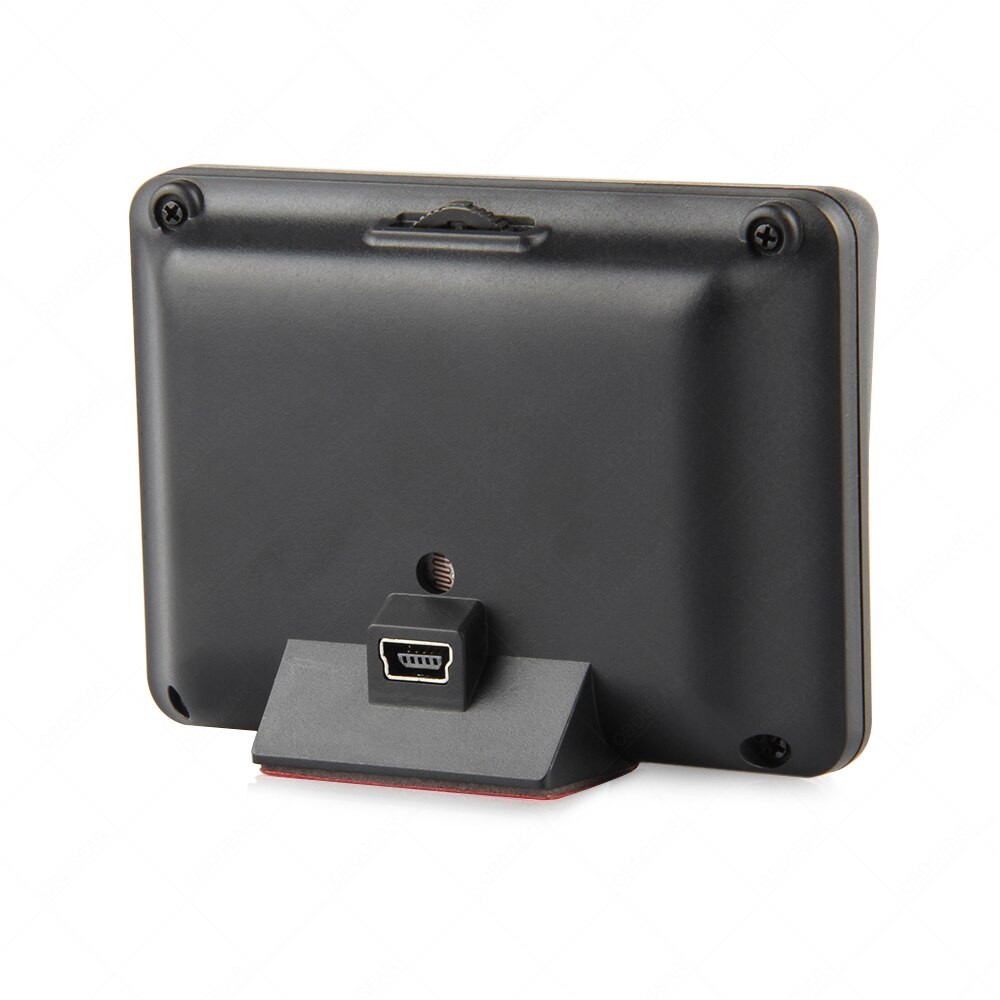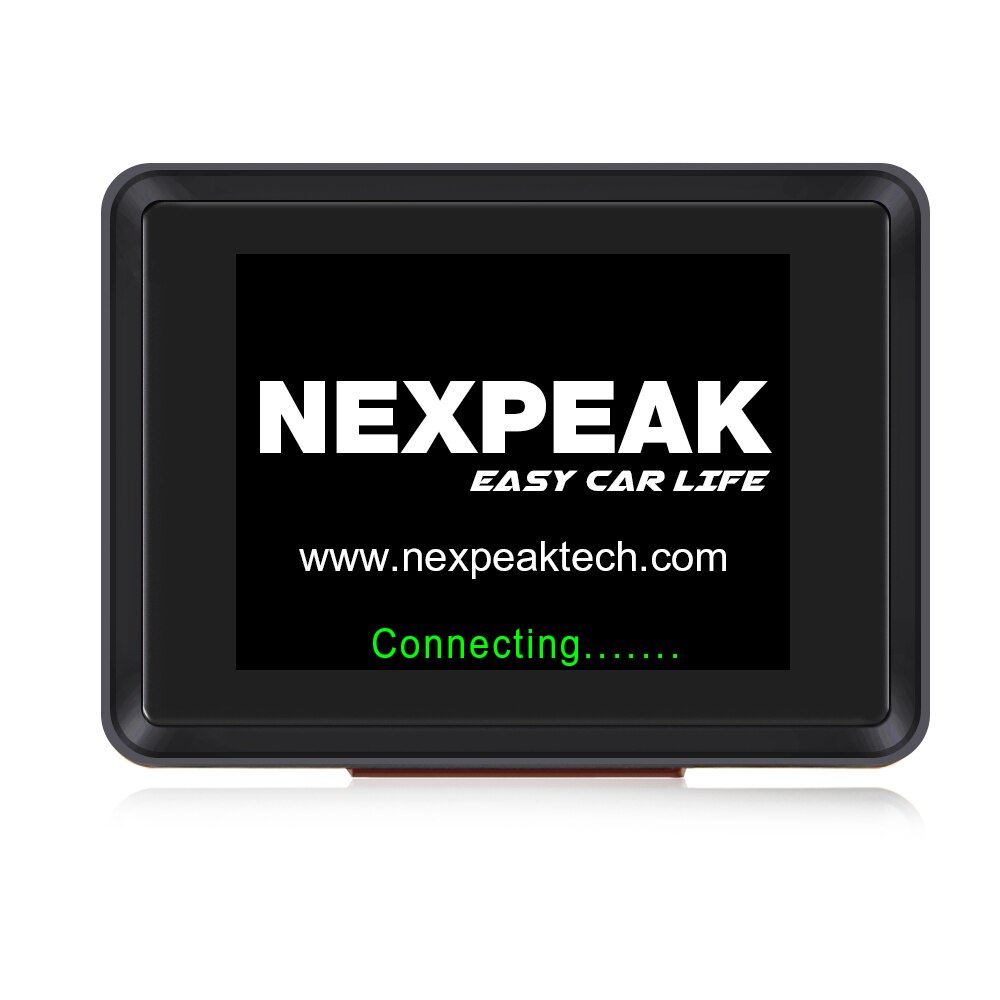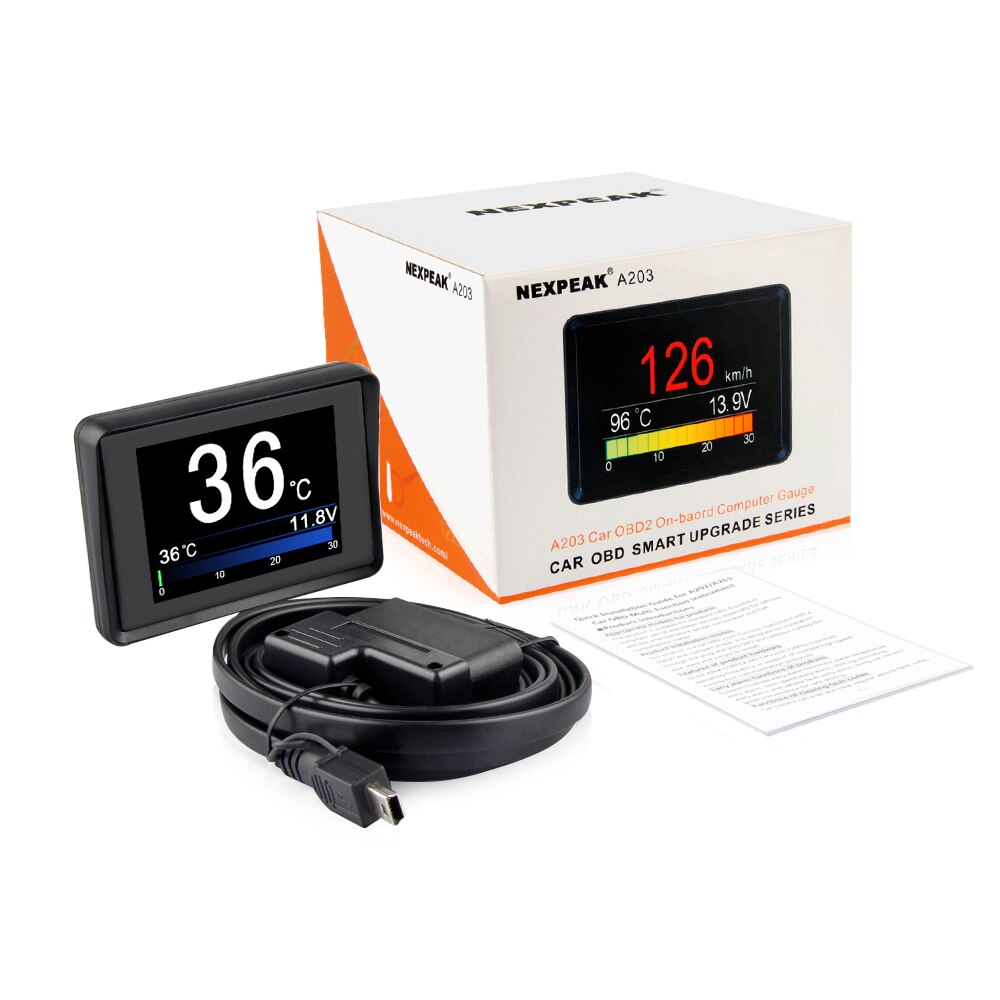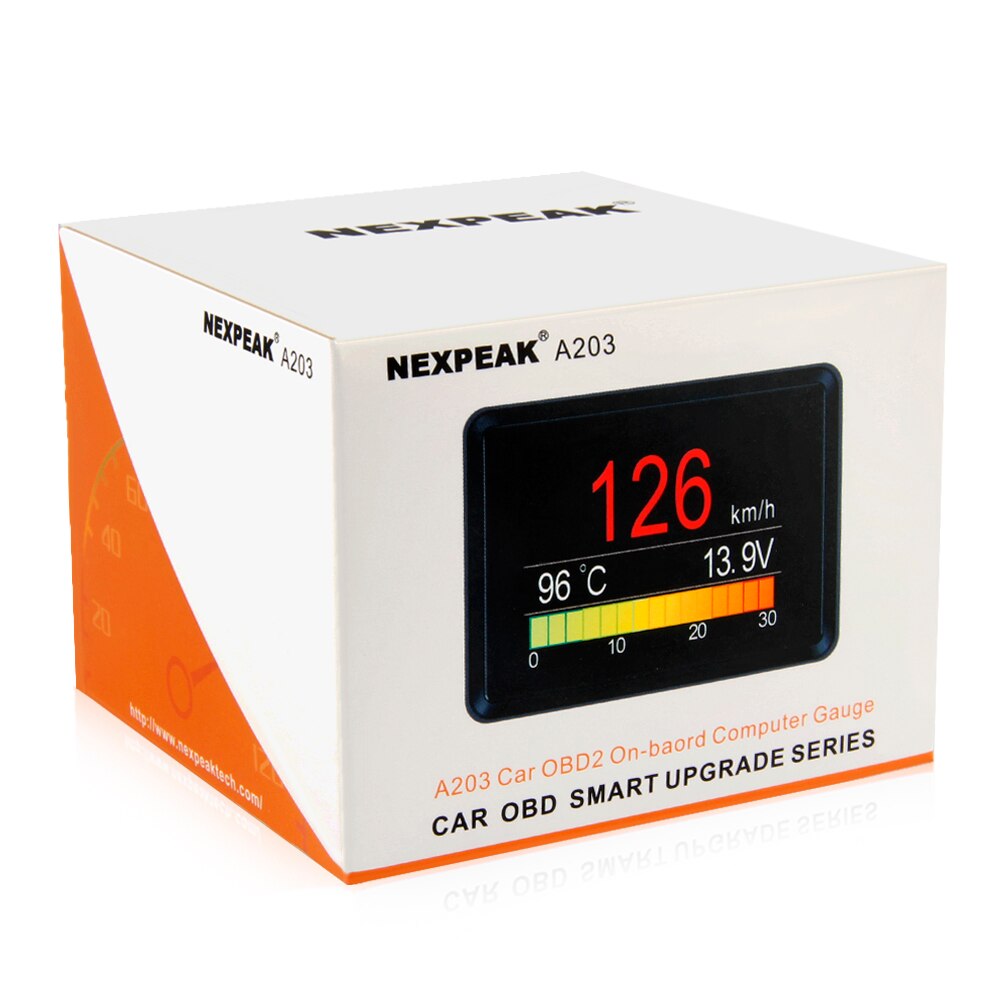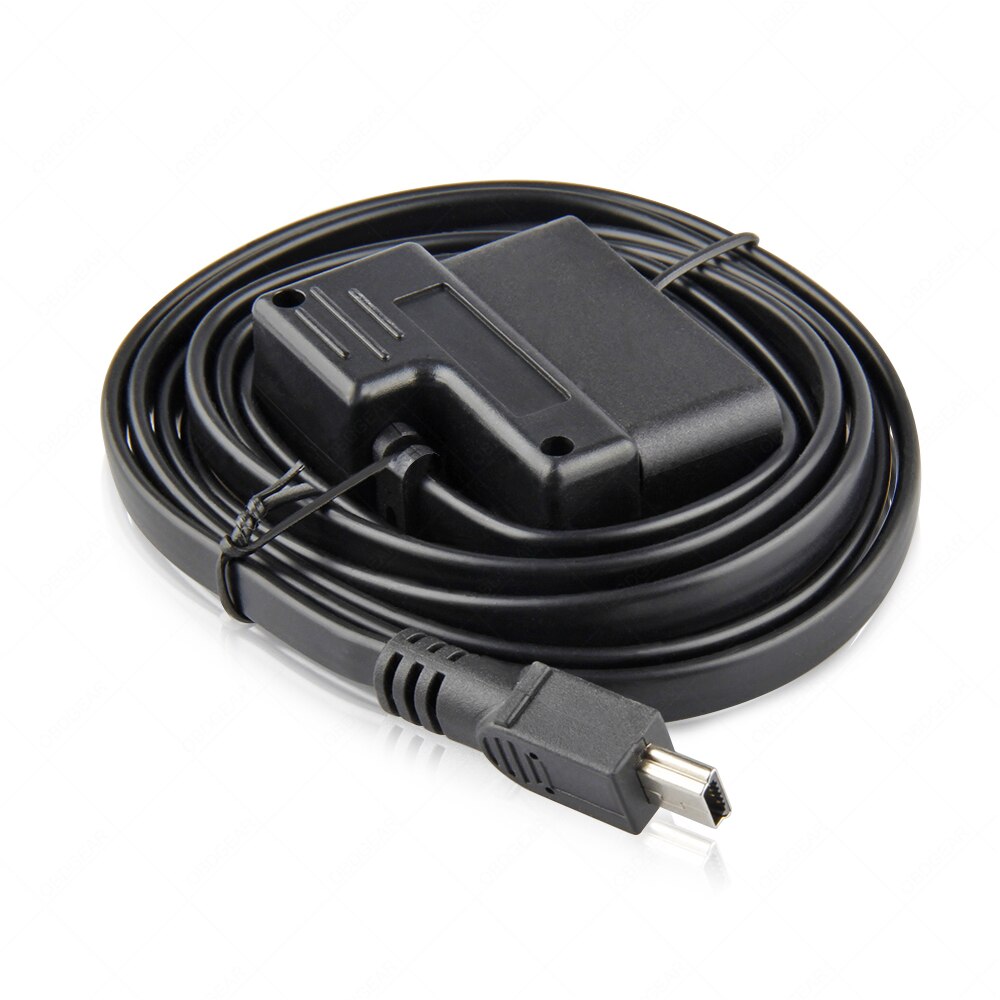 1 pc A203 OBD Computer
1 pc OBD16pin to USB Cable