AUTOOL BT360 Car Battery Tester
Vehicle Cranking Charging Digital Analyzer
2000CCA 220AH Multi-Languages BAD Cell Test Tools
Notice: This is the link for Version ONE, with language English,Spanish, German, French,Russian and Italian ONLY.
If you need version TWO with language English, Polish, Chinese, Dutch and Japanese, PLEASE LEAVE MESSAGES TO SELLER.
Descriptions:
BT-360 battery tester can do battery test, cranking test, charging test and other additional functions.
Battery test is mainly targeted to analyze the battery healthy status to calculate the actual cold cranking
capability of the battery and the aging extent, which provide reliable analysis evidence for the test and maintenance of the battery.
It notifies the user to replace battery in advance when the battery getting aged.
Cranking test is mainly to test and analyze the starting motor.
Through testing the actual required cranking current and cranking voltage of the starting motor,
it can find out whether the starting motor works fine.
There are several reasons why the starting motor is abnormal:
lubricating system fault causing the starting loaded torque increasing or rotor friction of the starting
motor causing the increasing friction of the starting motor itself.
Charging test is to check and analyze the charging system, including generator, rectifier, rectifier diode, etc.,
Thus to find out whether the output voltage of the generator is normal, the rectifier diode works fine and the charging current is normal.
Suppose one of the above mentioned parts is not in normal situation, it will lead to over charge or incomplete charge of the battery, thus the battery will be quickly damaged and also greatly shorten the using life of other loaded electrical appliance.
​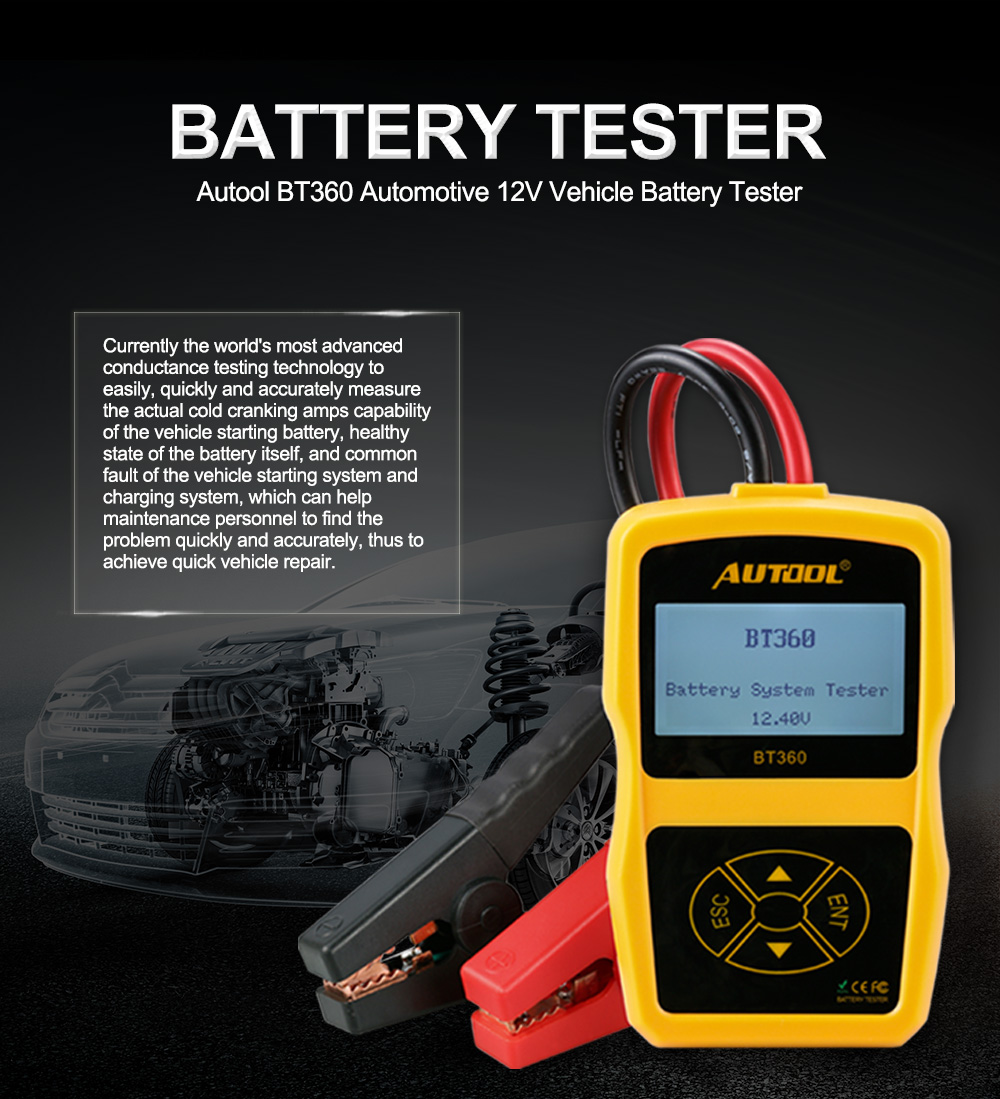 There are two versions:
1.languages with English,Spanish, German, French,Russian and Italian.
2.languages with English, Polish, Chinese, Dutch and Japanese.
Please leave us message when you place order, if not, we will send you English version(The version one)
There is no option to chose "in Car" or "outside the car" in version 2 with Polish language.
It won't affect the test result in fact.
The model " in car " means all the electronics of the car are ON state.
The "outside the car" means all the electronics are OFF state.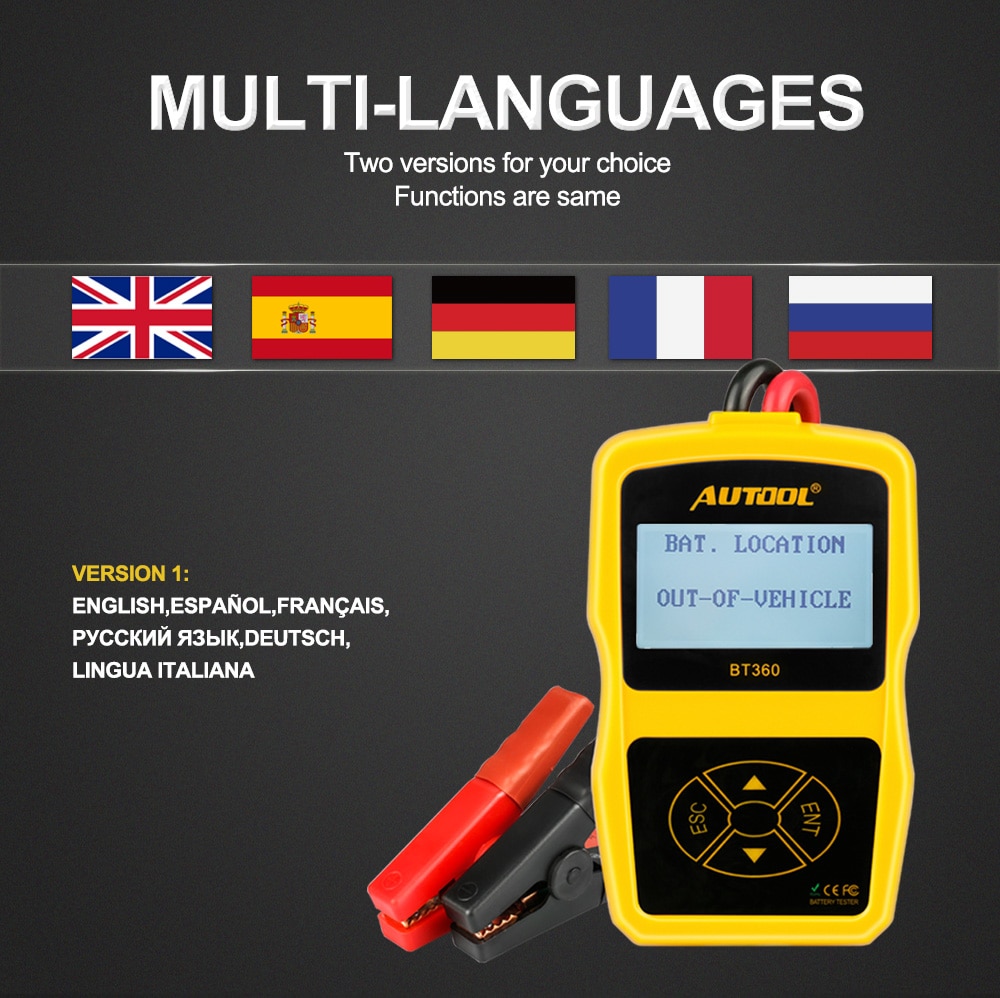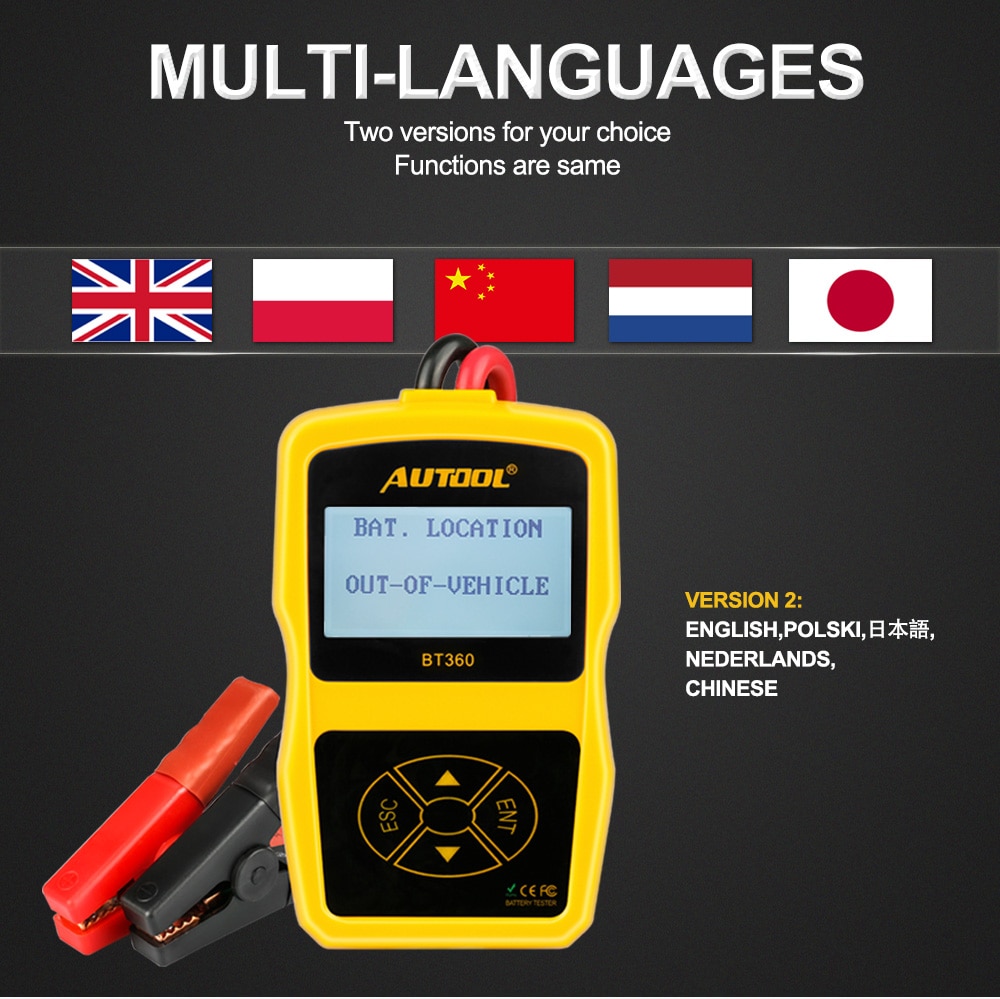 Product Features:
1. Test all kind of 12V automotive cranking lead acid battery including ordinary lead acid battery, AGM flat plate battery, AGM spiral battery,Gel battery and etc.
2. Directly detect bad cell battery.
3. Polarity reverse connect protection,reverse connection will not damage the tester of affect the vehicle and battery.
4. Directly test the battery with loss of electricity, no need to full charge before testing.
5. Testing standards include currently the world's majority of battery standards:CCA, JIS, DIN, IEC, EN, SAE, GB.
6. Support multi-languages with two versions.
Benefits for Battery test :
1. Conductance correlates directly to the battery capacity
2. Passive testing method is safe.
3. Never discharges or drain the battery.
4. Able to test condition of discharged battery.
5. Consistent and repeatable results.
6. Provides unique indication of battery conditions.
7. Provides check the Alternator's charging and Starter's cranking conditions. It is maintenance free and no internal batteries required.
8. Powers up when connected to the battery posts during testing.
Function:
Test Result: Good or Replace
Capacity – Cold Cranking Amps (CCA), DIN, EN and IEC information relative to battery rating.
Internal resistance value (m )
Life in percentage (%)
Cranking system
Charging system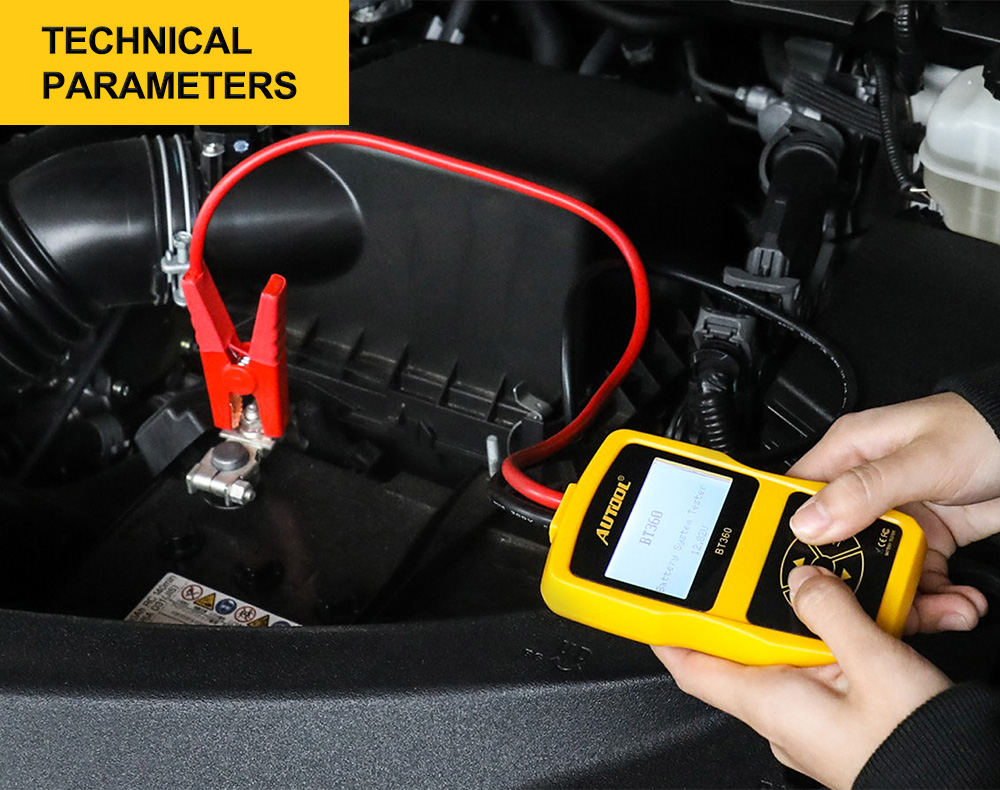 Application:
Use to test a wide range of 12V batteries (Starting [SLI], Deep Cycled and Marine) of Wet (Flooded);
VRLA or Maintenance Free (MF);
Sealed Maintenance Free (SMF);
Absorption Glass Mat (AGM) and GEL cell.
The major battery standards JIS, SAE, EN, DIN and IEC are supported.
Operating Parameters:
System voltage: 12 Volts
Input voltage range: 9V~15V
Power requirements: No internal batteries required. Power on when hooked up during testing.
Testing range: 100 ~ 2000 CCA, 100 ~ 1200 DIN, 100 ~ 1200 IEC, 100 ~ 1700 EN
AH range: 30-220AH
Working Environment Temp.: -20°C-50°C
​Tips: CCA100-2000, 30-220Ah, which is the highest CCA in the market.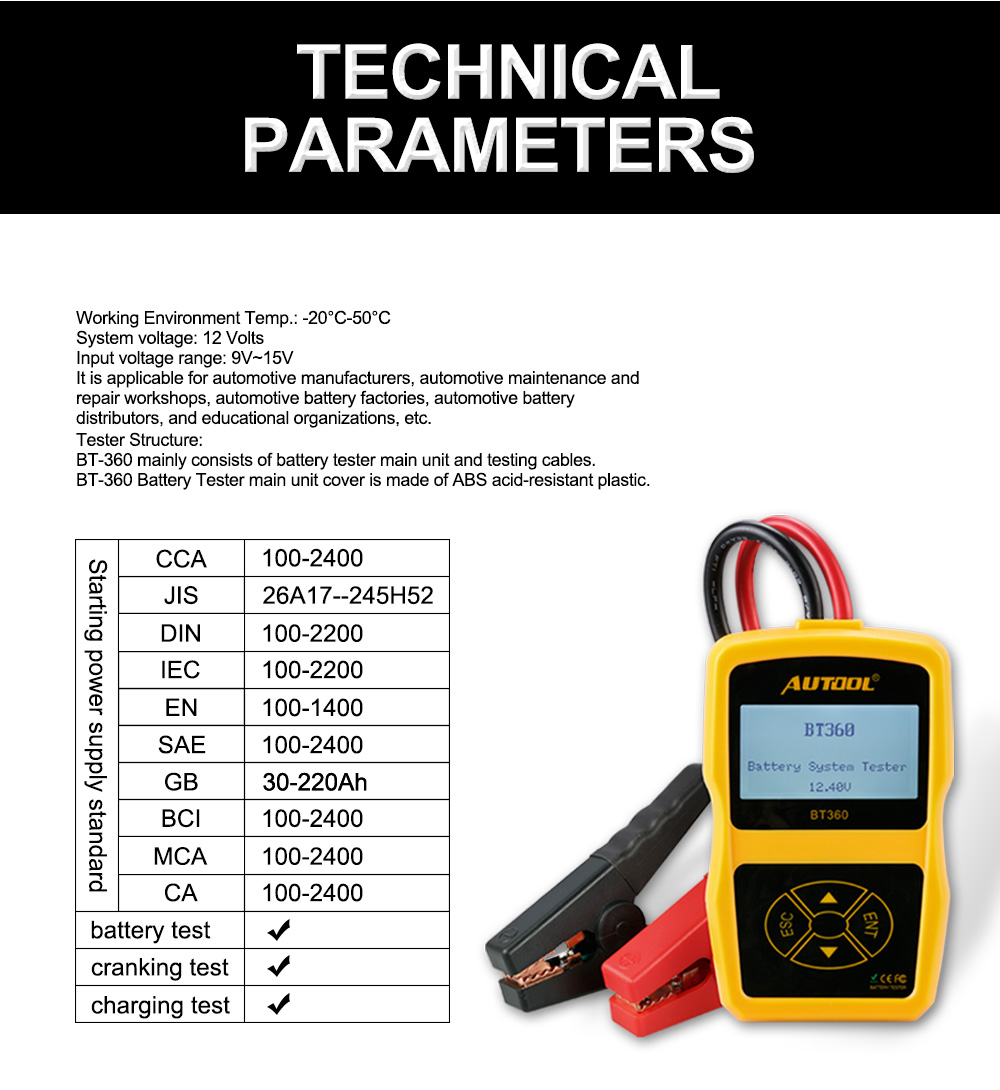 Tester Structure
BT-360 mainly consists of battery tester main unit and testing cables.
BT-360 Battery Tester main unit cover is made of ABS acid-resistant plastic.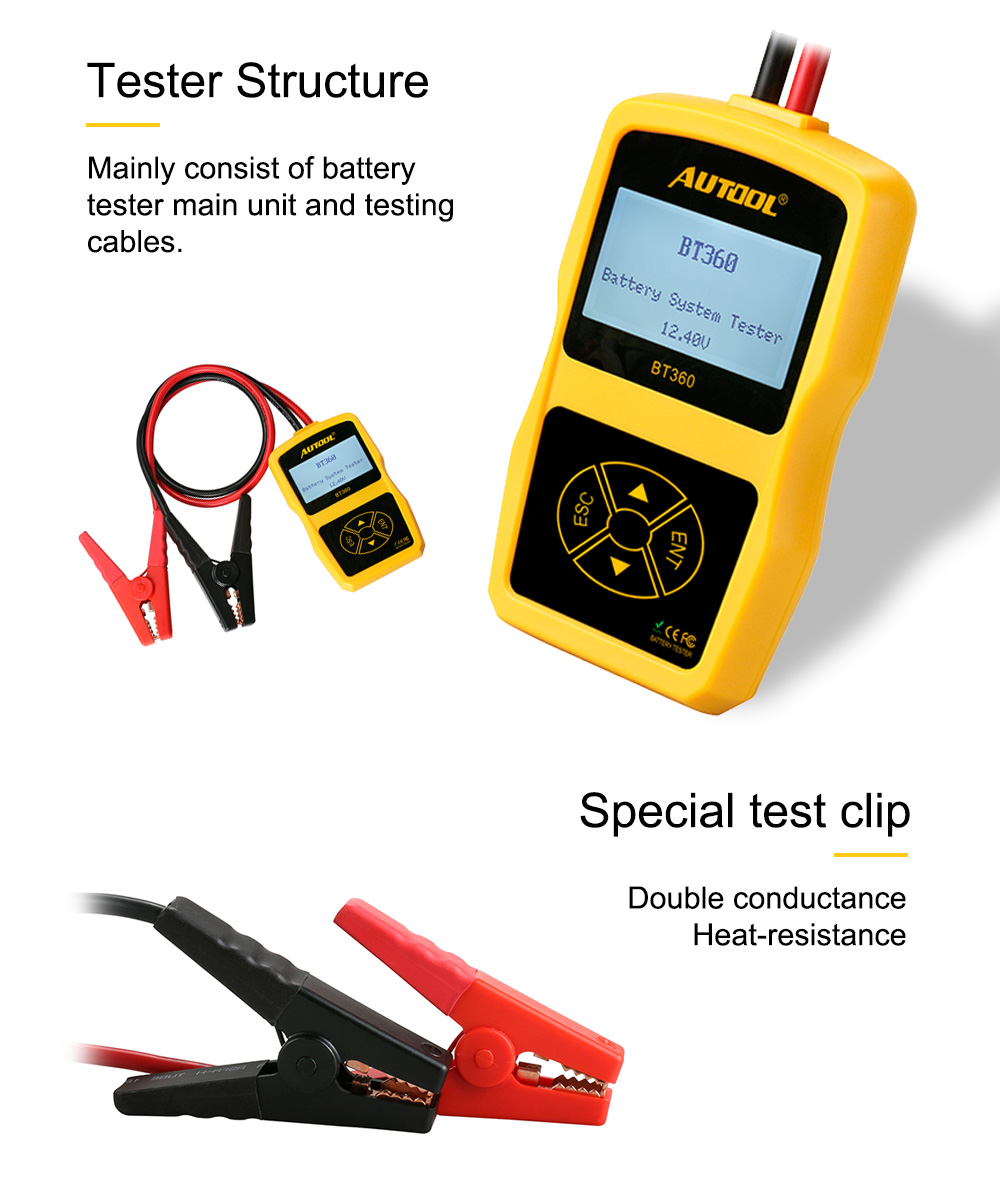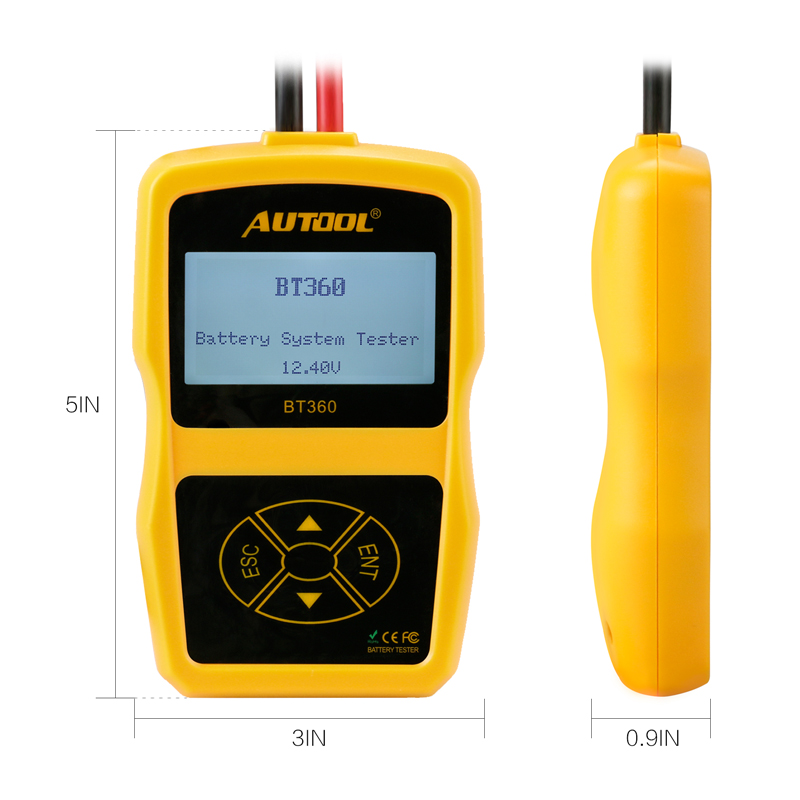 How to Choose a Car Battery Tester ?
Accuracy: Compared to other tester, the test results of Autool BT360 Battery tester are the same(tolerance ±15) when testing at the same time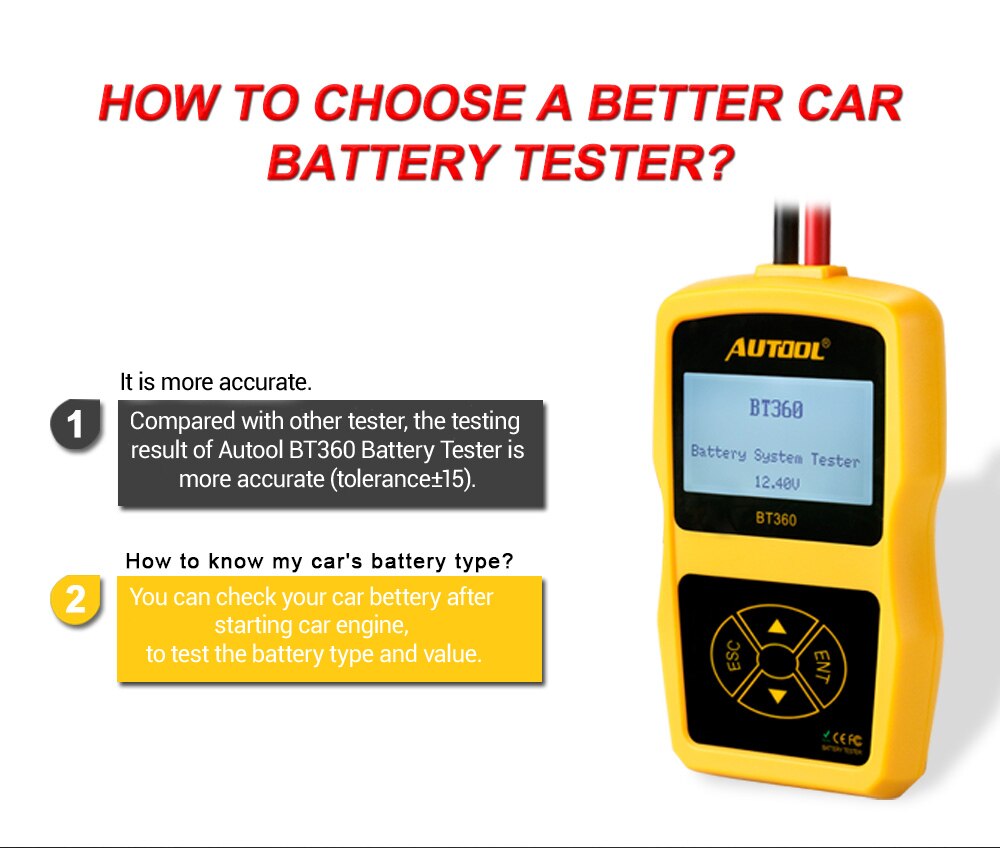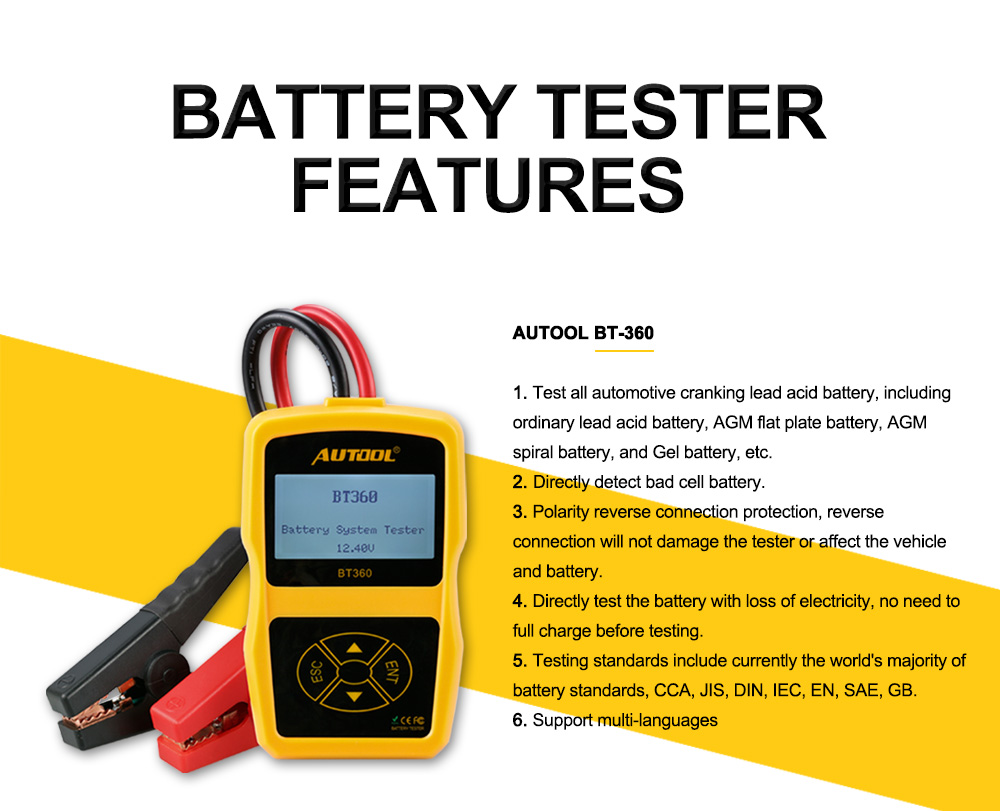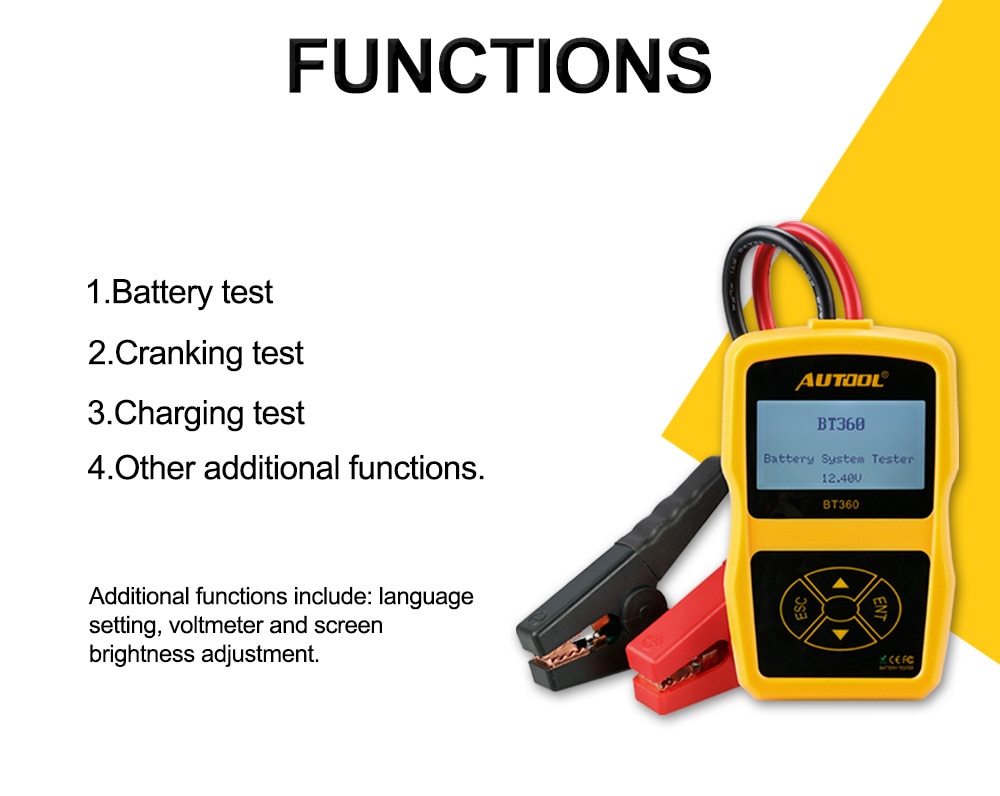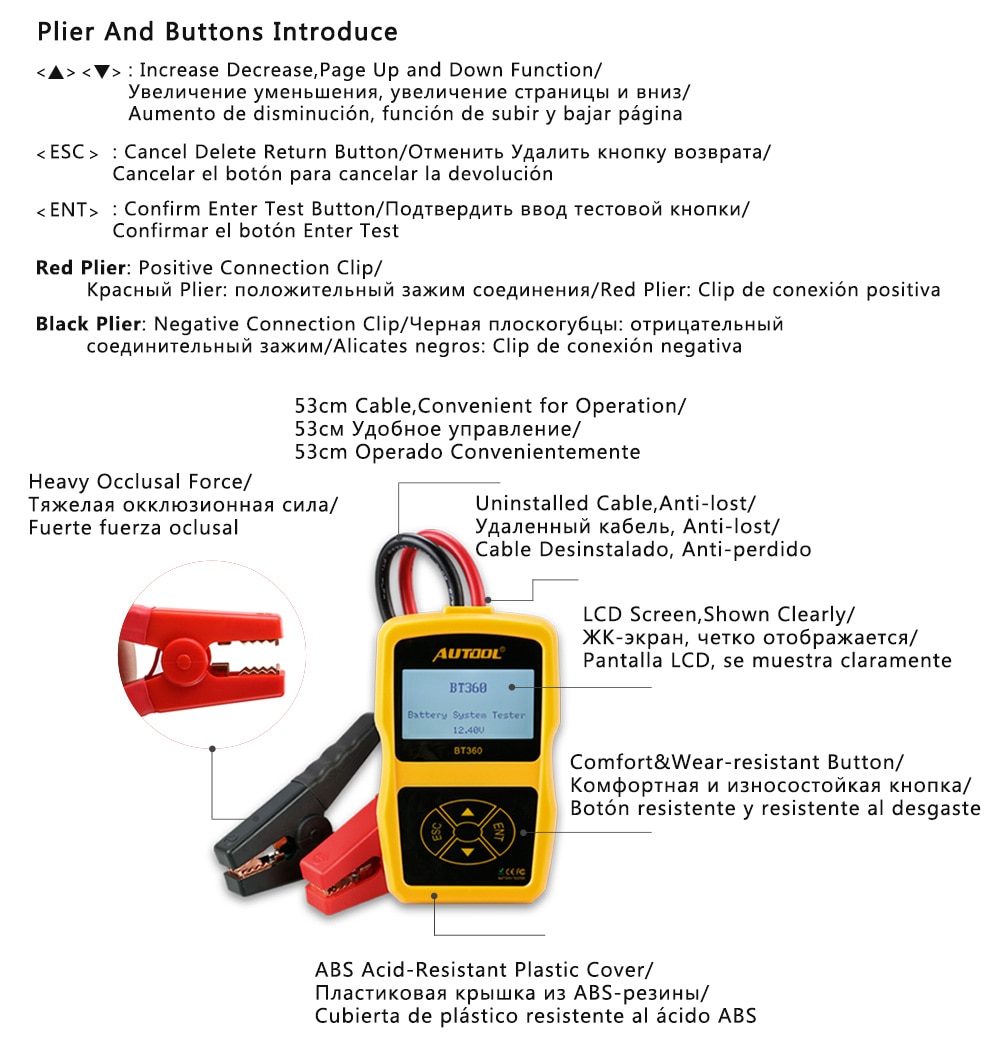 Packing List:
1*BT360 Main Unit
1*An English Manual for BT360