GEYIREN 2019 HUD Display Speed Meter Auto Diagnostic Tool P16 OBD2 Car Engine RPM Gauge OBD2 On-Board Computer For Car
This product connects car OBD2 interface by OBD cable, and display the driving data, e.g. vehicle speed, engine RPM, water temperature, fuel consumption etc. It can keep the driver's eyes always on road to avoid the danger of lowering down head to read the dashboard. This product won't change any car ECU data.
OBD smart digital device is equipped with a very powerful detection for the error code, the device can display the error code information clearly in text form, and it can clear the fault information, and display accelerating competitive mode, brake performance test mode, read the entire vehicle data stream information, and the other functions.
OBD2 Devices Are Not Compatible With:
1. European / American cars manufactured before 2004 and Asian cars manufactured before 2007.
2. American cars manufacture Dodge, jeep, Sail, Chrysler, and all cars before 2004;
3. France cars manufacture: Fiat, Maserati, Lamborghini, DS, logo, Citroen, Renault, Simka, Amerika, etc.
4. Japanese cars manufacture Suzuki, Mazda 6, Infiniti (QX50 q50 q501), Toyota Avanza in 2013, Lexus (is250, ex250, ES300H) Honda (jazz, CRV) and cars produced before 2008.
5. Korean cars manufacture KIA, Hyundai some models.
Hyundai Sonata 2011 2013 2015 / Hyundai i20 2013 / Hyundai Elantra 2011 2013 2014 2016 2017 / Hyundai IX3 2013 / Hyundai Tucson 2010 2017 / Hyundai MISTRA 2016 2017 / Hyundai VERNA/Accent 2013 2014,
Kia Soul PS 2017 / KIA Sportage, Sportage R, Sportage R GLS 2011 2015 / KIA K4 2014 / KIA RIO 2009 2010 / KIA Cerato 2009 2010 / KIA K3X 2012 / KIA K5 2014 2017
6. All cars from Italy manufacture.
7. Oil and electricity mixing, diesel powered car, Pick up, SUV, ORV.
8. Below special cars:
Nissan

Rouge

2014

Nissan Frontier 2012

Nissan sunny n17 model 2012

Nissan note 2006

Nissan Livina 2008

Nissan Murano 2007

Nissan G11 2009

Nissan Altima 2005

Honda HRV 2016

Honda CRV 2016

Honda jazz 2010

Honda jazz 2014

Honda CR-V 2008

Honda V6 2010

Honda Element 2010

Toyota Altis 2016

Toyota Fortuner 2014

Toyota Hilux Vigo 2015

Toyota Porte 2009

Toyota Camry XLE Hybrid 2016

Mitsubishi Outlander 2016

Ford Galaxy 2005

Ford Taurus 2003

BMW X5 Diesel 2013

Chrysler Town and Country 2007

Lincoln Towncar 2003

Renault Clio 2 Phase

Volvo XC60 2005

Pontiac Grand Prix 2006

Pontiac Bonneville 2005

Hyundai Sonata 2013

Hyundai Sonata 2013

Hyundai i20 2012

Hyundai Santa Fe 2013

Perodua Alza

Perodua Viva

Perodua Myvi Lagi best 2012

Chevrolet Silverado 2004

Chevrolet Vivant model 2007

Kia Morning 2008

SRT-4 Dodge Neon 2004

Dodge Durango 2004

Grand Marquis 2004

Chevy Trailblazer 2006

Chevy Silverado 2005

Mustang 2004

Rainier 2005

Jaguar XF 2011
1. OBD2 / OBDII interface HUD:
a. Suitable for North America cars, it can only be applied to Vehicles with OBD2 interface manufactured after 2004. For Asia, it can be used to cars with OBD2 interface manufactured after 2008
b. Do not support cars with OBD I and JOBD interface (Japanese OBD)
2. GPS HUD:
GPS car HUD supports all cars (When you have no idea about the date interface of your car, you can choose the GPS HUD, if you need GPS HUD, Please contact us。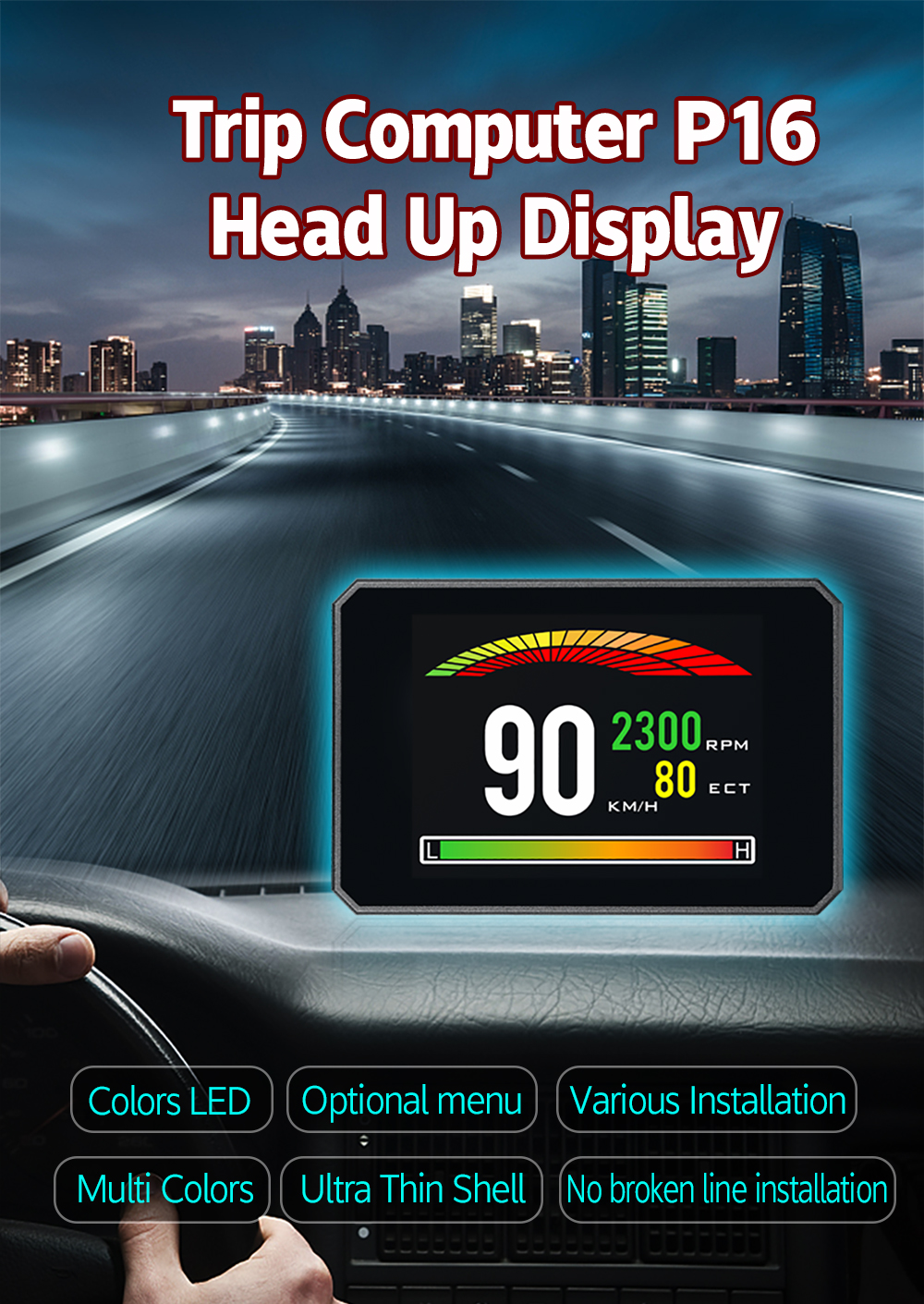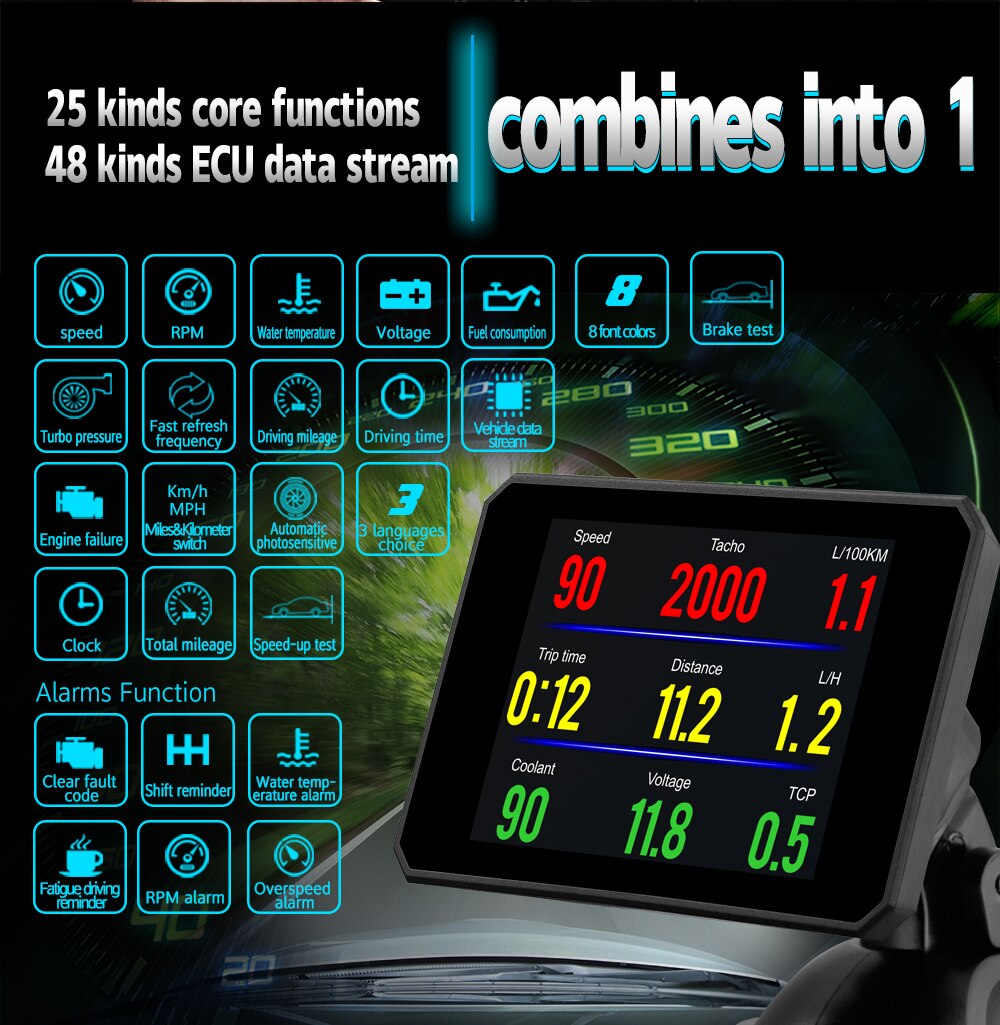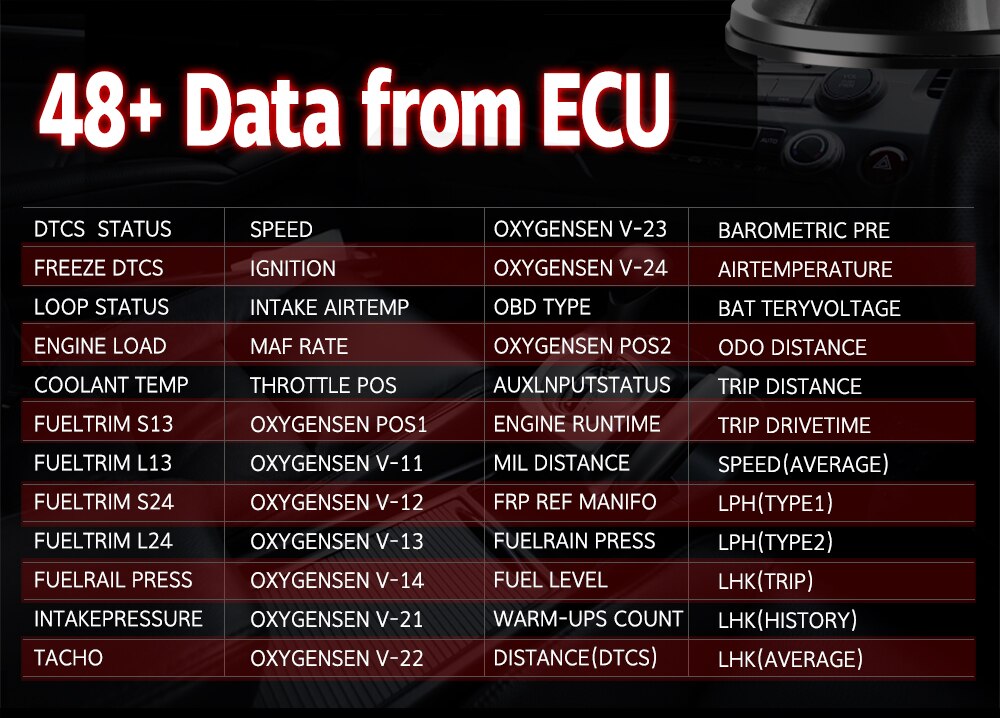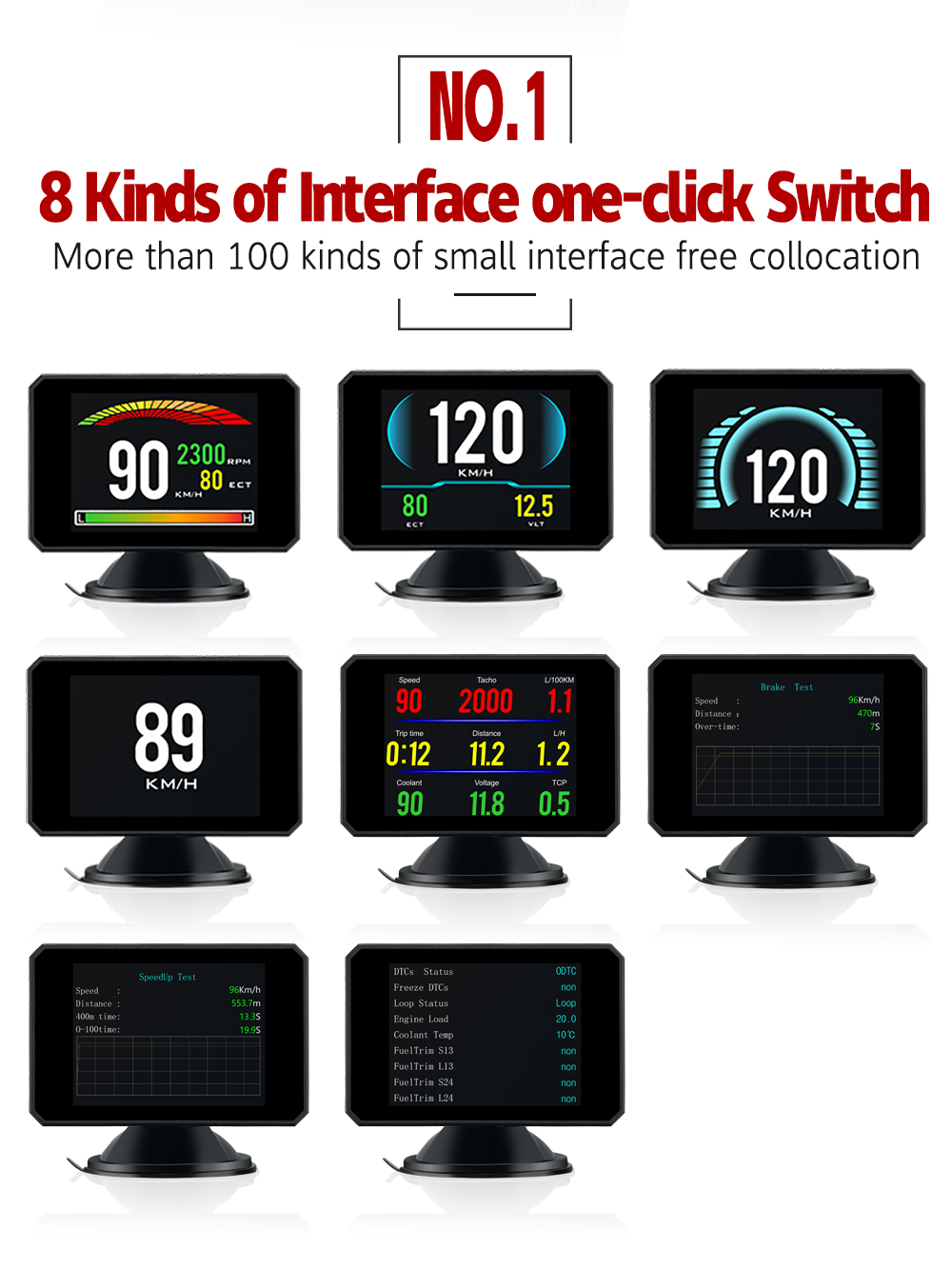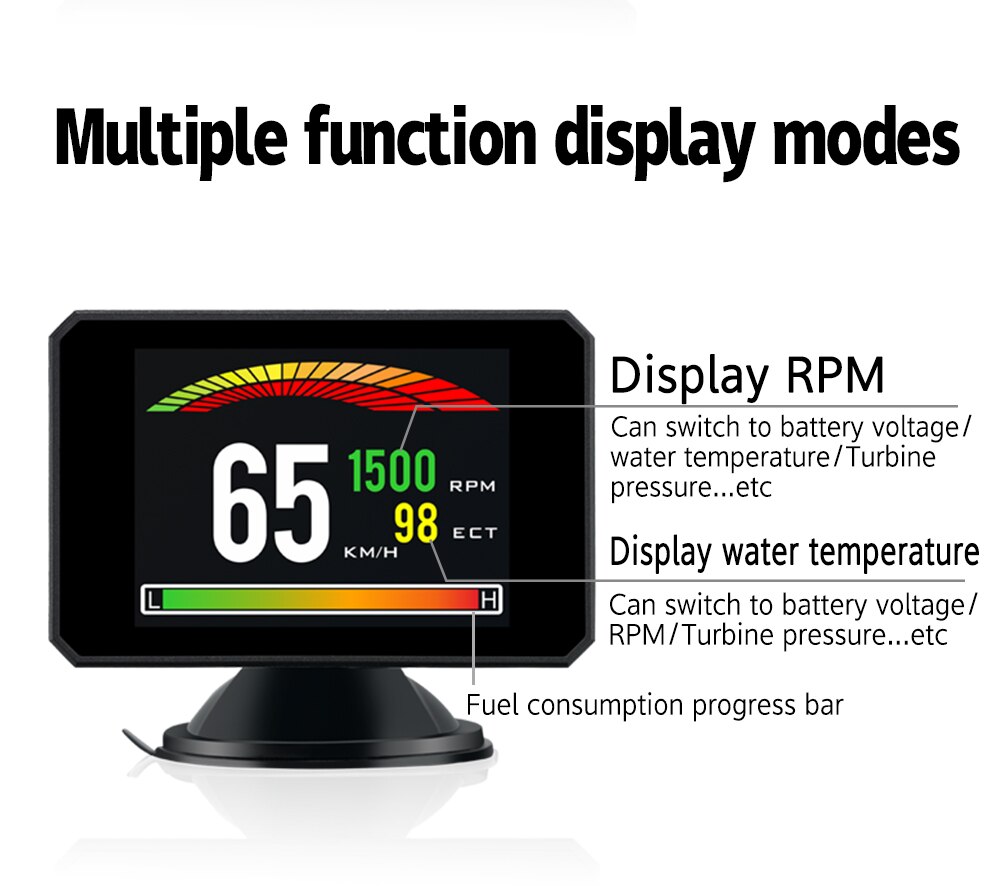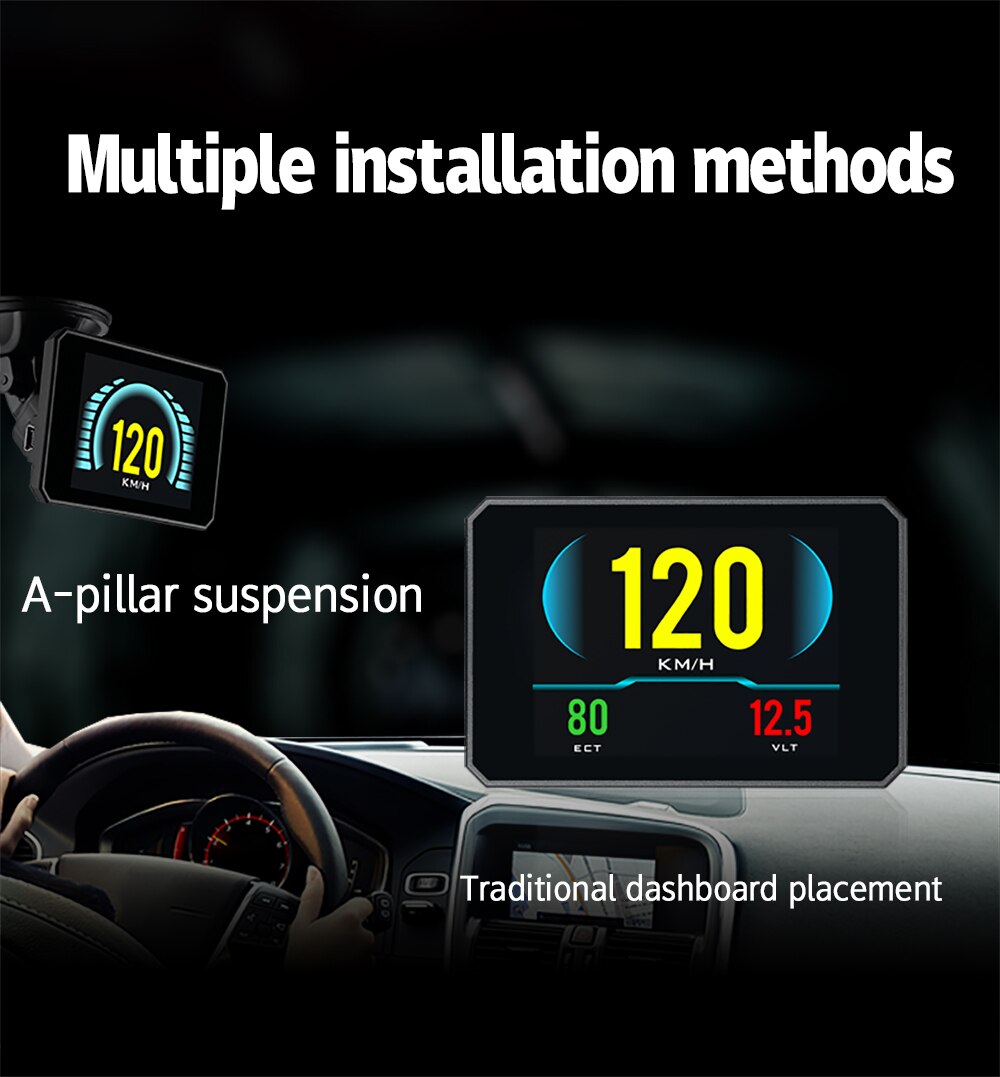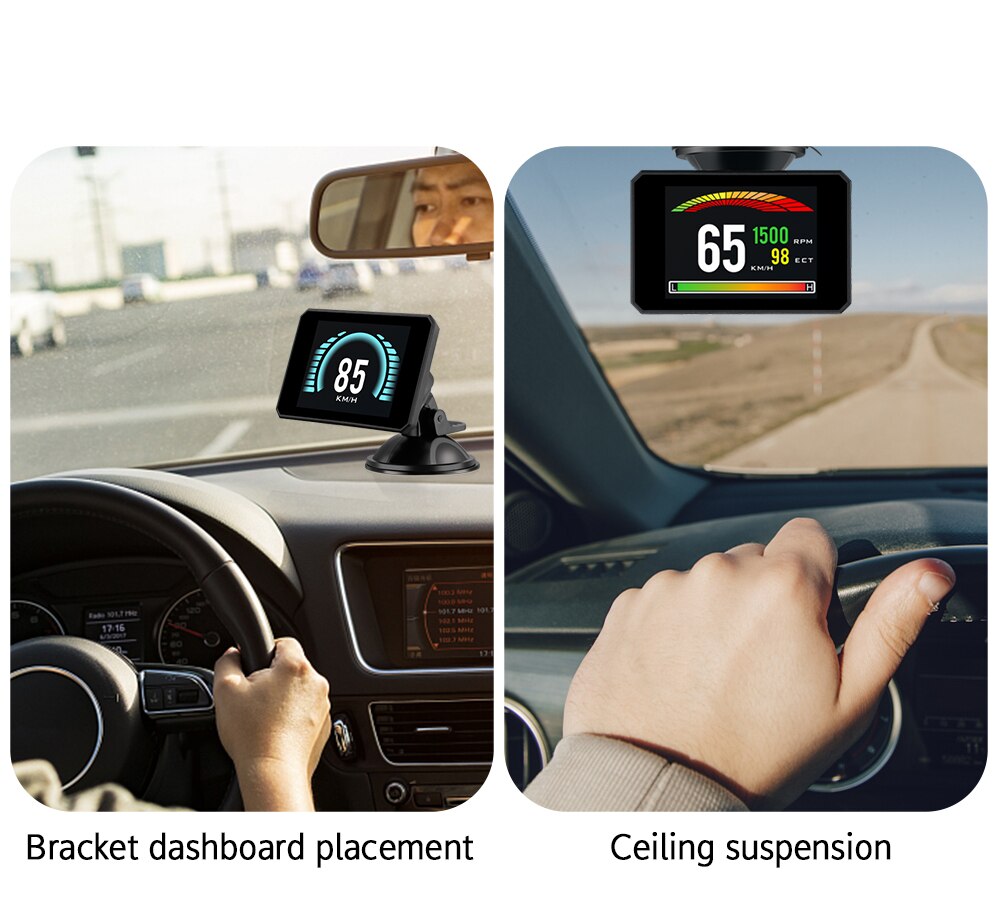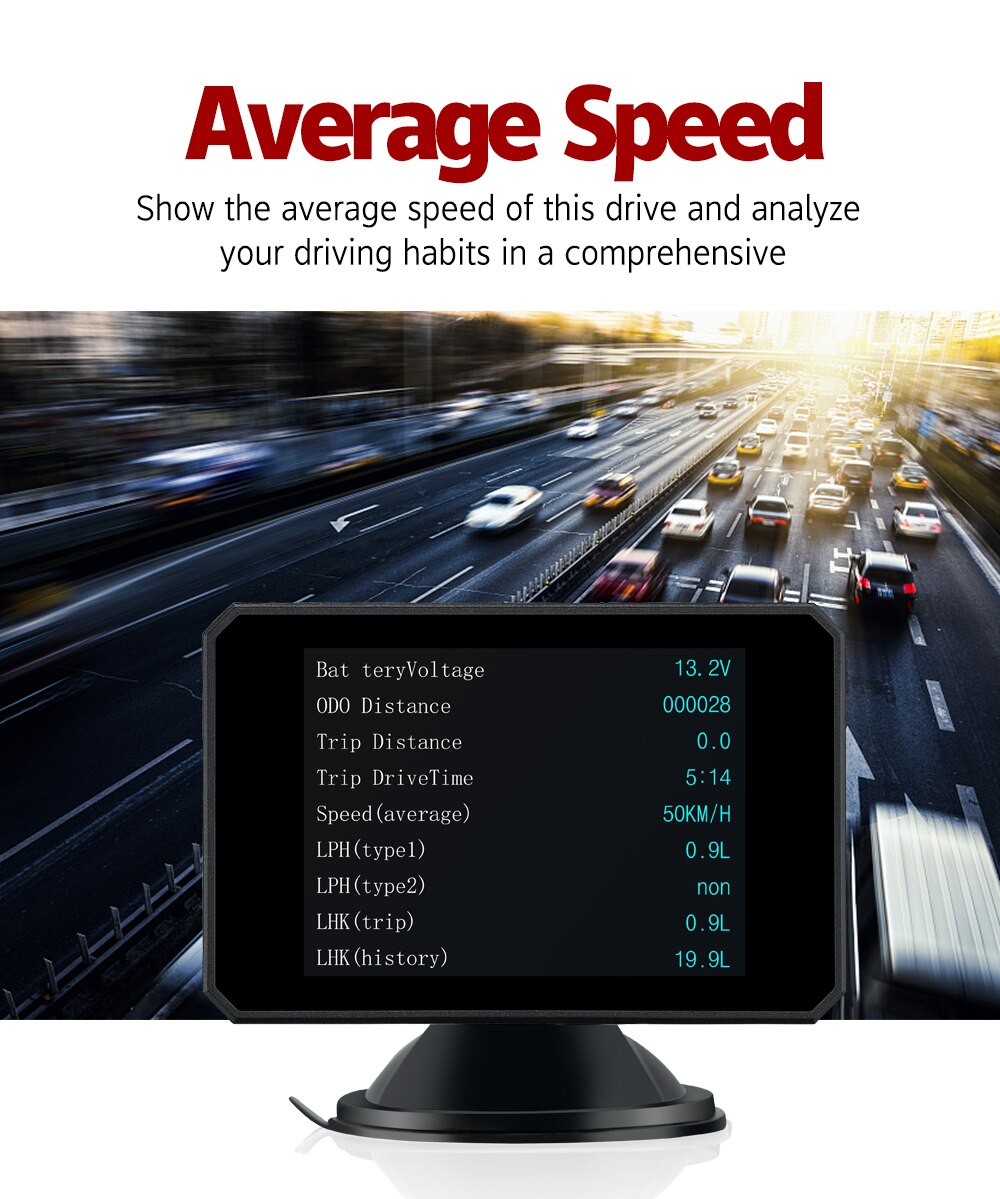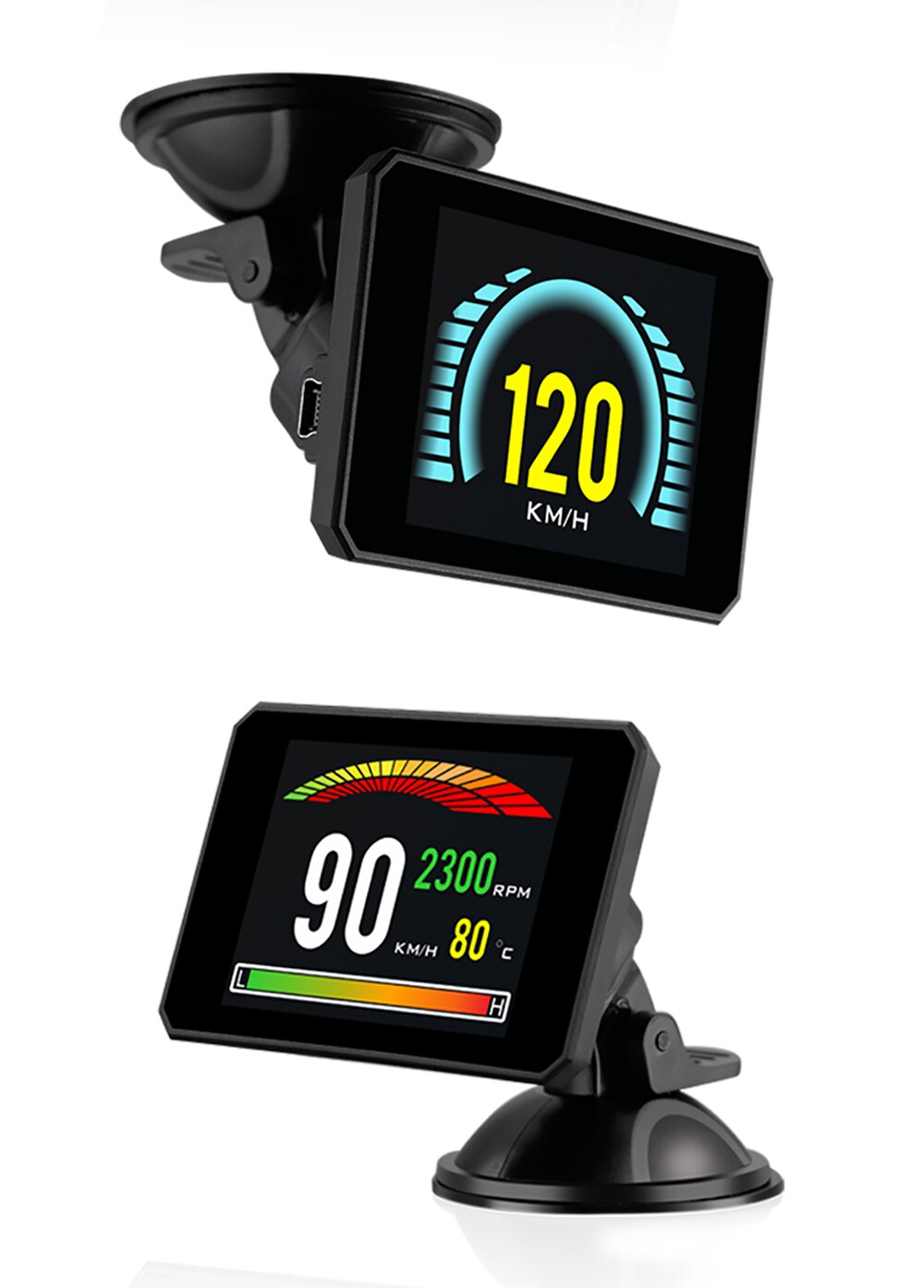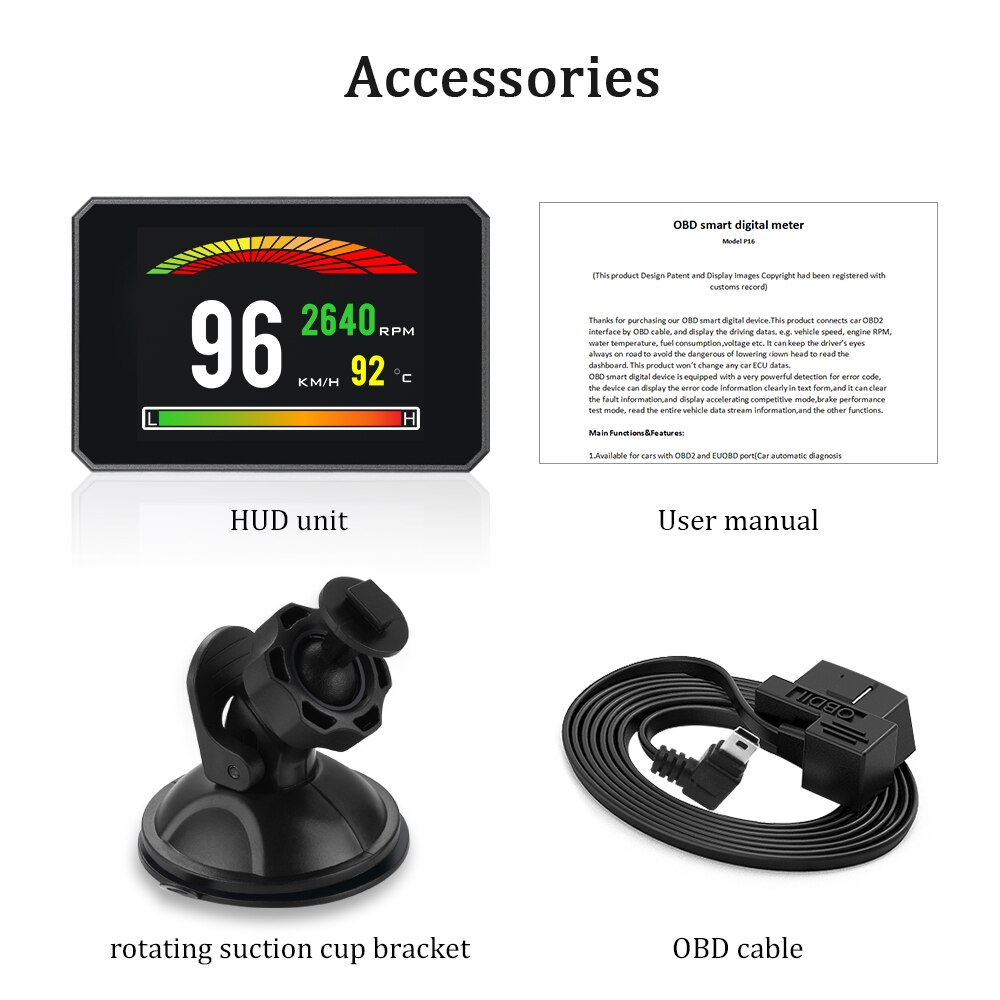 Main Functions&Features:
1.Available for cars with OBD2 and EUOBD port(Car automatic diagnosis system), plug and play
2.TFT LCD multi color smart display
3. The first scan will show the vehicle protocol
4. The language can be changed
5. Multi-function display mode or simple function display mode can be switched freely
6. Add new functions: accelerating competitive mode, Brake performance test, can read the entire car data stream information
7. Rich Contents: vehicle speed, engine RPM, water temperature, voltage, instantaneous fuel consumption, average fuel consumption, driving distance measurement, driving time, low voltage alarm, high water temperature alarm, over speed alarm, engine fault code alarm, eliminate the fault code, freely switch between kilometers&miles.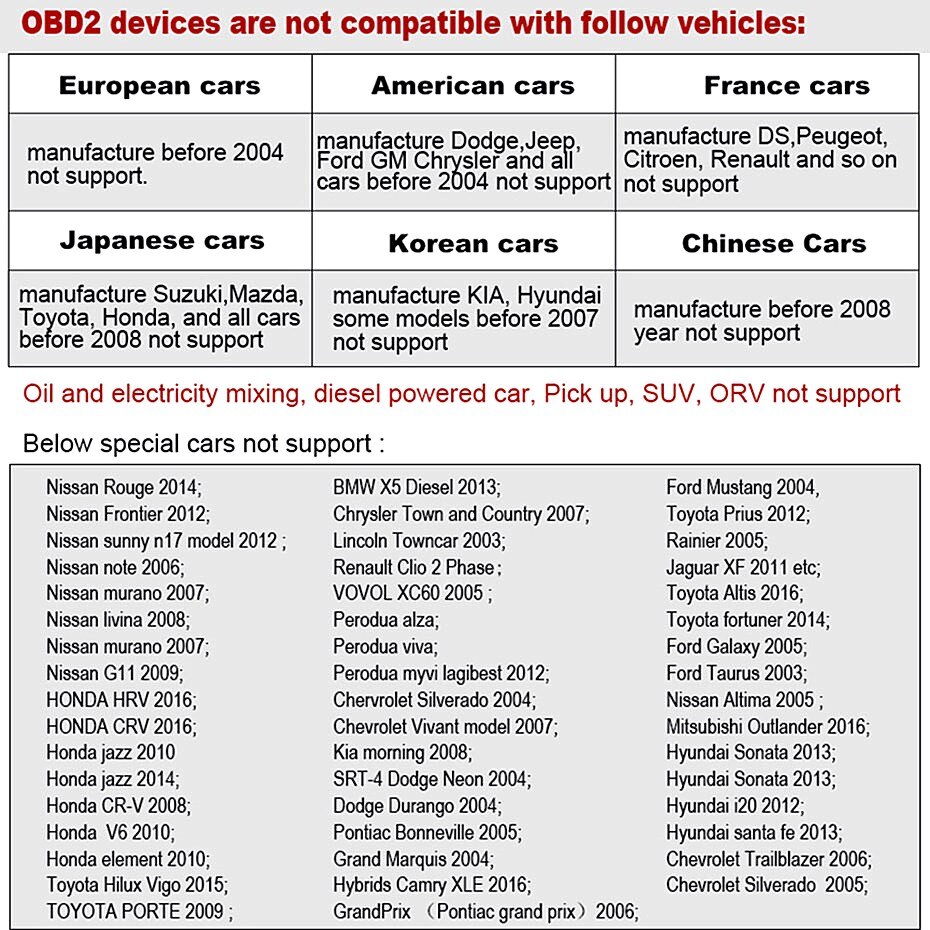 ( P16 OBD2 Model)